Giovanni Lunardi
In love again, on a small sandbar off Lido Beach, his bronze skin glistening in the bright sun, his bare feet nestled in the warm sand, Giovanni Lunardi breathes in the salt air. The ocean mist leaves the taste of his native Italy on his lips. He is waiting - waiting for a wave to kiss the legs of the international fashion model reflected in his eyes.
Today it is Charlize Theron, a Hollywood starlet. Last week, Valeria Mazza, an international supermodel. Twenty-five years ago, it was Carol Alt.
Speaking in Italian to his son Christian and his wife Ines (pronounced ee'nez), Giovanni, like Arturo Toscanini with whom he shares his native birthplace, orchestrates the fashion shoot as if it were a violin concerto by his favorite composer Tomaso Albinoni. More of Giovanni's photos - over 2,500 - have appeared on the covers of fashion magazines than any other photographer in the world.
He snaps the camera's shutter.
Between shots, he answers his cell phone. His bill reads like a phone list of the Who's Who of the fashion world. From agents, to magazine editors, to models, to studio owners; Giovanni receives calls - from New York, Miami, Milan, Rome, Paris - seven days a week, all hours of the day and night.
Clearly, here is a man who could choose to live anywhere in the world. But in 1994, Giovanni purchased a home in Sarasota and became a full time resident in 1998. He is, a private man, not readily open to talking about himself. "When I play ball with my sons, I don't want the neighbors to watch,"he says, referring to his private residence that nests hidden within subtropical foliage.
But why Sarasota?
Growing up in Parma, Italy, the capital of Parma province, seventy-eight miles southeast of Milan, there was no question in Giovanni's mind what he would do with his life. Giovanni watched his father work and was fascinated by the technical nature of his profession. He was a surgeon.
"The technology of surgery was so beautiful,"he said.
But when he was seventeen, and it was time to go to college, Giovanni realized something about himself. He then described his feelings as a young man.
"I did not want to be the people's suffering,"he said. "I could not stand talking to parents, saying 'sorry for your kids,' or to kids - 'sorry for your parents.' I could not stand the pain on their faces. I needed to do something with happiness. I loved the technical, but I needed something optimistic."
After telling his father he would not be a surgeon, Giovanni began dreaming of open spaces - freedom, traveling. "My father was a very open person…let me do whatever I do."
An executive from a prominent Italian petroleum company came to Parma and promised students that, if they mastered the study of geology, the world would be at their feet. It would be working outdoors in some of the most exotic places in the world. Giovanni began dreaming about vast plains, mountains, formations, tectonics, earth.
"I dreamed to have something more. I wanted to go to the petrol fields in Africa. There, could be technical without the pain of suffering."And geology would be the ticket. But how did this transition from geology to photography happen?
"To qualify for my master's degree, I had to get in the Alps for six months to study the Dolomites."So off to the Alpine mountain range in northeast Italy he went. "I had to give a report - a book with photographs. And I had to take pictures."Up to this point, Giovanni did not have an affinity for photography. But he became fascinated with light and its affect on how we see things. And from then on, he always had a camera in his hands.
He received his masters of geology, graduating at the top of his class and was ready to map the world. He was dreaming about boots and charts, but the only jobs he could find were behind desks peering through microscopes. "I was always in a jacket. I would die,"he said with a sincere look of pain in his eyes.
The summer he graduated, he went to Yugoslavia to vacation with his best friend. That's where he met Ines, who, with her aunt was also vacationing. Ines was seventeen, blonde, tall, German.Giovanni, going nowhere without his camera, took pictures of her. He brought the pictures back to Italy.
He was always one to try something new, never afraid of asking a question. He took the pictures to a famous fashion magazine - Amica.
"They got in love with the pictures and Ines,"explains Giovanni. "I lived in Milan and she in Hamburg. Amica sent us on assignment to the mountains in the snow for a ski-fashion shoot. They wanted four pages. They loved the photos so much, they used eighteen. From then, a contract."It was 1964; Giovanni was twenty-six years old.
Soon after, a friend invited him to Paris. Across the bridge, over the Seine on the Place Du Palais Bourbon, stood the Vogue Studios. There, and at studio Elle, Giovanni worked with the four best fashion photographers in the world: Richard Avedon, Guy Burdin, Helmut Newton, and David Bailey.
Through David Bailey, Giovanni met Jean Shrimpton - one of the most famous fashion models of all time. Then, she was living with Bailey. Giovanni remembers walking down the sidewalk with her and staying six feet away in awe of her beauty. Later, Bailey married Catherine Deneuve and Giovanni remembers her sitting quietly in a corner of the Vogue studio, watching Bailey work.
"There was always something happening with Bailey,"said Giovanni, his eyes taking on that far-away look. One day Bailey decided to invite a band to the studio to play during one of his photo shoots. Giovanni felt the band was in the way. That's when Bailey introduced him to Mick Jagger and the Rolling Stones.
Giovanni tells of numerous other times when, because he was so focused on taking photos, he did not know he was in the presence of a world figure outside the fashion industry. But that intensity, that focus, is the reason Giovanni is so good at what he does.
"I had to take photos of Niki Lauda, the famous race car driver,"Giovanni begins. "I was in the pits after the race Lauda won, and every time I tried to take a picture, Lauda was with a thin, blonde-haired English guy. I was becoming more and more frustrated, trying to get the perfect solo shot and finally pulled Lauda aside and asked him, 'Why do you always have that person around?' and to please remove him. That's when Lauda introduced me to Rod Stewart, Lauda's close friend."
Giovanni could make a fine living selling celebrity photos he has taken over the years, but his passion, is fashion photography.
"I look for something in the eyes. That life,"he says with a certain twinkle in his own eyes.
In 1965, he opened his studio in Milan. Giovanni and Ines, now his wife and an international fashion model and Italian movie star, moved all over together: Paris, London, New York. In 1974, they rented an apartment in New York City. From there, Giovanni, always taking Ines with him, would travel to Florida - Ft. Lauderdale, Miami, West Palm beach - three times a year for a month and a half at a time to shoot the latest fashions draped on the bodies of the latest and upcoming supermodels. All the while, he still traveled to Milan, London, Paris, and other countries around the world, taking pictures.
In the 1980's, he began shooting in Clearwater, then Tampa, then and Sarasota.
Giovanni Lunardi is still focused on his profession. He had never tasted Root Beer until today. I poured some in a glass. He smelled it, tasted it, made no face, but clearly stated, "This is not my favorite drink."He drinks iced tea and a wine he can only drink when he is in Italy because it is too sensitive to ship overseas.
"These new models don't know what they are doing to themselves - drinking, smoking, doing drugs,"says Giovanni, peering through his lens. "They look old, young. Their eyes have no life. The best models come from Sweden, Germany, and Canada. The best feet from France; the best legs from Brazil; the best hands from Northern Europe; the best skin from Iceland; and the best teeth and lips - smile, from the United States."
He advocates a healthy diet and sets aside Sunday as family day: a time to travel through the canals and out the intercoastal on his boat with his wife and three sons.
Every week he is outside in the sun and the surf shooting a new fashion spread for some famous magazine, and using his studio to photograph products and services for local businesses. But in his spare time, he is working on a couple of projects: a book about fashion, and a black and white project about the people in Sarasota.
"It's the people, the weather, the opportunity. That is why I come to Sarasota. There are ways to use the whole day for photos."Surprisingly, a bright sun and deep blue sky are not the ideal for outside shots. But Giovanni knows how to manipulate the conditions and walk away with a masterpiece.
"One day, we waited all day for a cloud,"he says as he leans into his camera. In his gray shirt, black pants, and a beaded necklace - a gift from his son he never removes, he waits.
By forcing the gliding pelican higher into the air, the wave telegraphs its approach. It rushes to shore, crashes down, and sends a pixie-dust spray into the air. The mist, carried on the tropical breeze, floats across the model's skin. Through the lens, she glows; her body covered with the kisses of a million fairies.
Giovanni snaps the shutter and smiles. He knows he need only wait a month to see the photo on the cover of a magazine.
I asked him how he consistently manages to take such beautiful photos of models.
His face drew professorial. "Every model I work with, I fall in love,"he says. "I must. How else can I take the picture?"
The End
Written By Richard Corrigan
To contact Mr. Corrigan:
http://www.richardfcorrigan.com
Published on Citytempo Magazine Issue 13/october 2000
Giovanni Images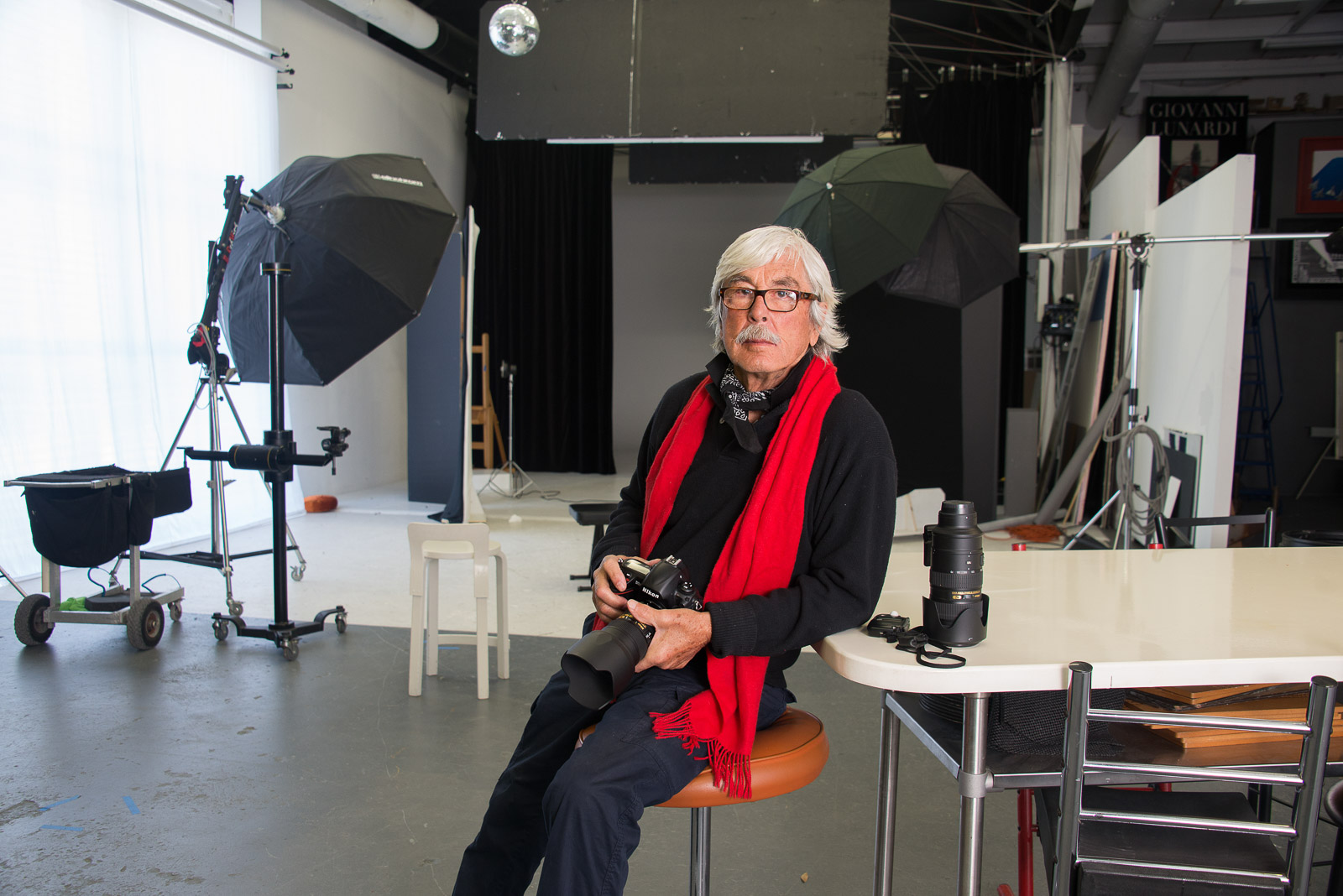 Giovanni in his studio in Sarasota